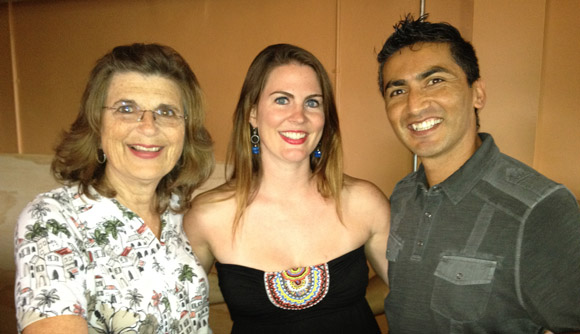 Vino!! Wine Shop is a family owned business that we decided to open in Pittsboro because Pittsboro did not have a wine shop and we felt that it was high time the residents did! Here is a little information on all of us:
Anna Lange
Anna has over thirteen years of experience in the retail and customer service business. From 1999 through 2003, Anna worked in the food industry in Chapel Hill, N.C. where her love and experience with wine began and grew. In 2003, Anna graduated cum laude with a B.A. in Business Administration and a minor in Spanish from Rhodes College in Memphis, Tennessee. After college and living three months in Ixmiquilpan, Mexico, Anna went on to achieve a J.D., cum laude, from Campbell University's Norman Adrian Wiggins School of Law in 2007. Anna practiced commercial business litigation in Raleigh for four years until the opportunity to open a wine shop in Pittsboro arose.
Ascary Arias
Ascary is originally from Ixmiquilpan, Hildalgo, Mexico, where he lived until the age of 17. Ascary came to the United States in 1991 and in 2005, graduated from Greensboro College with double majors in Sociology and Spanish and double minors in Art and International Studies. In his junior year of college, Ascary decided to help the people in his hometown and, thus, created the nonprofit organization, Vidas de Esperanza (Lives of Hope) in 2004. Ascary is the president and founder of Vidas de Esperanza. From 2007 until 2009, Ascary taught the sociology course, The Culture of Mexico, at Greensboro College and chaperoned several student trips to his hometown in Mexico.
Carolyn Kizer
Carolyn has over nineteen years of experience in the retail business, specializing in customer service. Carolyn served as a monitor supervisor over all customer service representatives at Sports Endeavors, Inc. (d/b/a Eurosport Soccer Company), located in Hillsborough, N.C. As of 2012, Sports Endeavors is the second largest employer in Orange County and is estimated to generate approximately $20-30 million dollars per year in sales. Carolyn holds a B.S. from Austin College in Sherman, Texas, and a M.T. degree from Duke School of Medical Technology in Durham, N.C.